Services » Tele Rehab Program
Our medical professionals are highly trained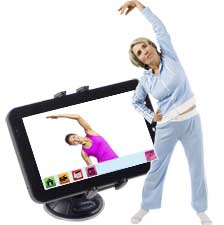 A new and Unique Approach to Home Therapy designed by a company you trust - Nightingale Home Healthcare.
Careport system compliments our therapy services by remaining with the patient when the therapist is not present. Exercise regimens are customized for every patient with simple video and audio instructions. Patients stay on track with their doctor's prescribed routines with scheduled alerts and compliance-focused progress tracking. Our clinicians know when patients are exercising and, more importantly, when they are not.
Our Careport System:
Is designed with seniors in mind
Has simple to use touch screens (people with certain disabilities can use it easily)
Is wireless and light-weight
Requires no phone line or Internet
Has both audible and visual alarms
Has HIPAA standard security
Includes compliance tracking
All exercises are performed by our Rehab Director
The Nightingale TeleRehab program provides patients with personalized therapy exercises that can be performed in the convenience and comfort of home.
No tiresome traveling to the therapist
An actual therapist demonstrates the movements...no more stick figure drawings to decipher
Easy operation and large icons that are easily visible
Can be monitored periodically
Call us today for a FREE demonstration of Careport in your home. Our highly qualified therapists are ready and equipped to service your rehabilitation needs.