News and Events from our Offices to your homes...

Nightingale is on the scene in Henryville to lend assistance

March 3, 2012 (Carmel, IN) -- In the midst of the devastation left by a tornado that recently struck a small southern Indiana town, Henryville, Nightingale was on the scene with much needed supplies. The well recognized Nightingale van was a welcome sight when it arrived, packed to the roof with tarps and heavy duty trash bags.

President of Nightingale Home Healthcare, Dev Brar, saw a need and was moved to send some supplies that would help the many residents who will be faced with multiple days of clean-up and roof repairs left from the storm that hit this past weekend. Jason Leonard, Building Manager at Nightingale, expedited the purchase of the supplies to get them on the way to southern Indiana.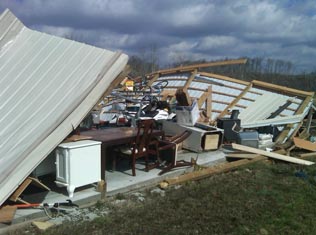 In the following photos, Michael Smith, a Nightingale employee arrives on the scene with a van packed with supplies that will be gravely needed by residents of Henryville over the next few weeks. "When the going gets tough the tough get going," and that's exactly what the Nightingale team did to assist the people of Henryville and to send the message that help and hope are on the way.

Anyone wishing to send help to the tornado victims in the form of monetary donations or supplies such as batteries, tarps, trash bags, etc. may do by sending checks or items to Nightingale in the name of the Spiritual Cultural Society , a 501c (tax deductible) organization, where 100 percent of all donations go directly to the victims. A Nightingale van will be making another trip to Henryville this week so if interested in making donations please fill in this small form or call 317-334-7777 for information.