News and Events from our Offices to your homes...

Nightingale Home Healthcare is 2012 HHCAHPS HonorsTM recipient.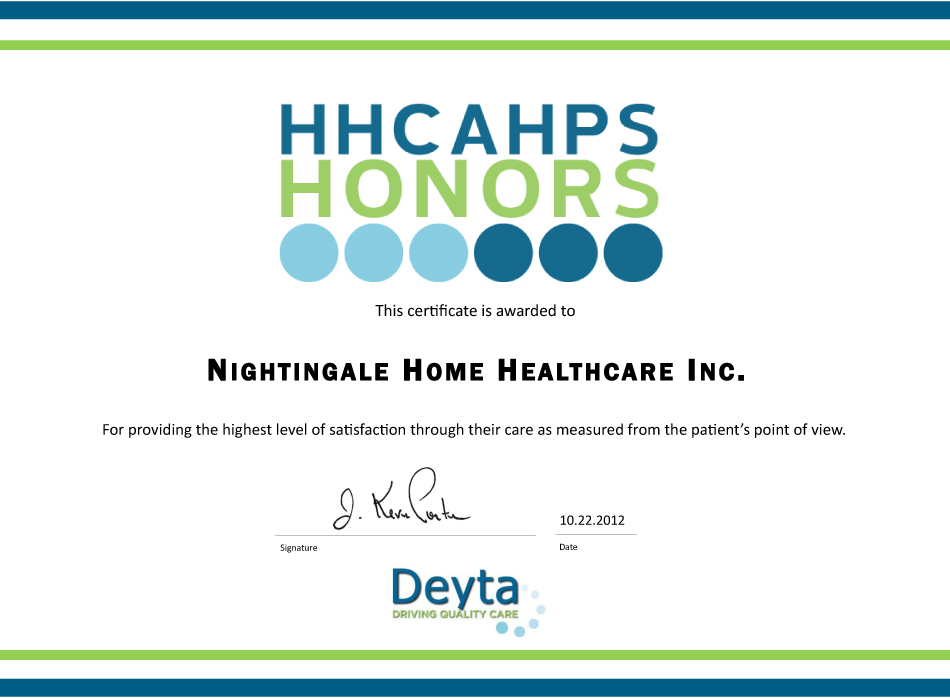 November 5, 2012 (Carmel, IN) -- You are leading the way! That was the message of the congratulatory letter from The HHCAHPS Honors program who announced that Nightingale Home Healthcare was a 2012 HHCAHPS HonorsTM recipient.

Established by Deyta, this annual honor acknowledges the top twenty percent of agencies that continuously provide the highest level of satisfaction through their care as measured from the patient's point of view. The HHCAHPS Honors identifies the highest performing agencies ranked by analyzing satisfaction measures covering both performance and improvement of care over a twelve-month period.

Deyta partners with thousands of hospice, home health, human services and other organizations, to measurably improve the quality of patient care and services, the experience of customers and employees, and the effectiveness of their operations. With 20 years of experience, Deyta offers proven solutions with powerful reporting, educational programming, and extraordinary customer service. Deyta clients and collaborators are providers, industry associations, regulatory agencies, vendors, and consultants who are committed to improving healthcare.

"The HHCAHPS Honors defines a new standard of excellence in the patient experience for home health agencies," said Bill Bassett, Deyta's Vice President of Home Health. "Identifying the top-performers in the home health industry is our way of recognizing HHAs that are dedicated to providing high quality of care in a patient-centric approach. The resulting patient experience is a key driver of ongoing patient and agency success."

The HHCAHPS Honors rankings were compiled from the HHCAHPS survey results of over 1,800 home health agencies from April 2011 to March 2012. Two domains of performance were used in the calculations covering the nineteen questions that comprise the five publically reported measures on Home Health Compare.

Dr. Dev Brar, President of Nightingale Home Healthcare, credits the company's use of innovative technology and the hiring of top-credentialed employees to provide quality patient care as factors in being selected for this latest award. Brar said, "We set our company standards on the motto 'the patient always comes first.' That message starts with our receptionists who are the initial contact with our company and continues through the ranks of our field staff and medical professionals. We also employ a team of friendly and caring individuals who contacts every patient on a rotating basis to simply check-in and address any possible concerns he/she might have. All of our patients MUST and DO come first."

Nightingale Home Healthcare home based in Carmel, Indiana has agencies in 14 states and sixteen cities. They are the parent company of Nightingale Visiting Nurses, Nightingale Hospice, and Aspire Home Care. Along with the recent HHCAHPS award, Nightingale Home Healthcare has also been named in the top 500 of Home Care Elite for six years straight. For additional information about Nightingale please visit www.homecareforyou.com or call 317-334-7777.